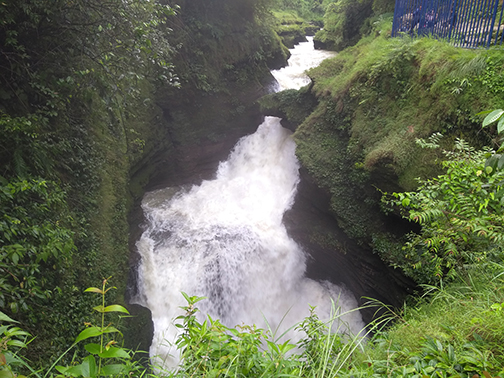 Jesuit Provincials for North Zone gathered together at Godavari Ashram, Nepal. Provincials Fr. Sebastian Geerakassery Joseph (DEL), Fr. Donald Miranda (PAT), Fr. John Wilfred Lobo (DAR), Fr. Melvil Victor Pereira (KHM), Fr. Raphael Joseph Hyde (CCU), and Fr. Amrit Rai (NEP). Fr. Donald reached Kathmandu on 8th afternoon whereas others reached next day. All were picked up from the airport by Region Superior and the Socius and taken to Godavari Ashram. Fr. Amrit, the Regional Superior welcomed the provincials formally in the evening of 9th July with "ice-breaking" dinner.
The day of meeting on 10th began with holy Eucharist presided over by Fr. Sebastian, the convener of the meeting. He emphasized in his homily the bonding aspect among the provincials. The cura personalis to all the Jesuits under each provincial. The provincials gathered in the library of the Ashram after the breakfast. They began with the short prayer invoking God's blessing for the assembly. They then, started sharing of personal experiences of being a Provincial. After listening to each there was prayerful pause to reflect on the sharing.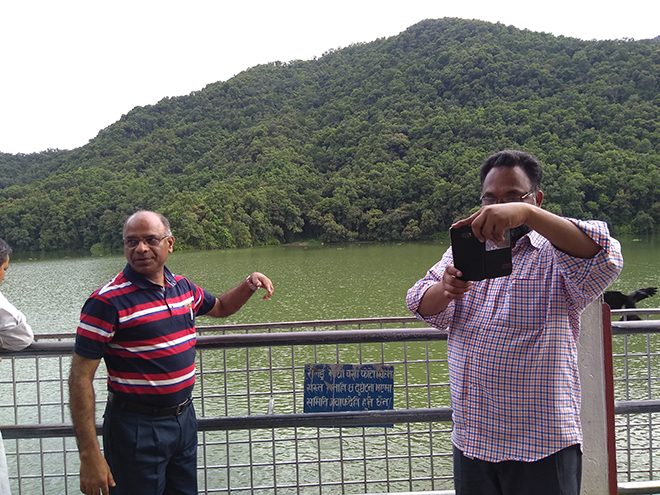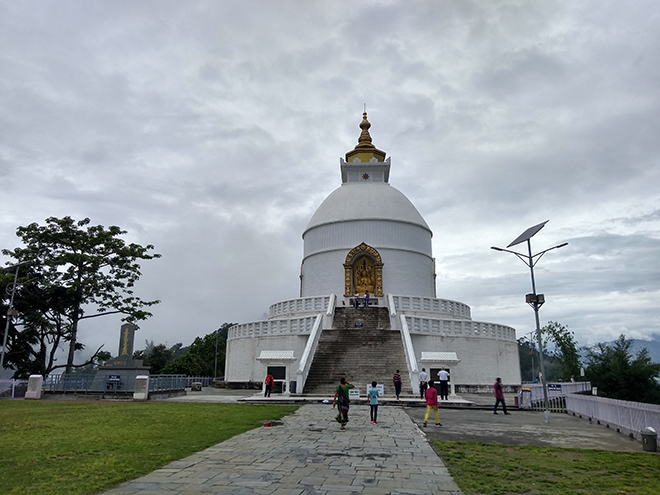 Along with their personal sharing, they touched upon many agendas:
a) to take UAP forward, having common programs like retreat for the North zone based on UAP. There was a suggestion made that in 2020, there could be zonal retreats; each province sends six of their members to other provinces for it. However, these retreats would not be for the scholastics during these times. There will be a separate retreat for them. Each province socius will allocate the place for its members. The retreat cum discussion on UAP implementation will be for five days excluding the travel. This UAP retreat can be in Atma Darsharn, Patna in February, NCR, Delhi in November, Kohima in June, Dhyan Ashram, Darjeeling and Kolkata in October and Godavari Ashram, Nepal in May. It would be something like SAP/ REGAE. There is a need to create a module on UAP for these retreats. Province like Darjeeling has already a module made by Frs. Xavier Alankara and Cherian Malliakal. Perhaps they could animate in making the module for zonal level.
With regard to making Jesuits expert in Ignatian Spirituality, there is a little inhibition among provincials for sending its members for long courses. More than two years course on Ignatian spirituality doesn't seem feasible. Members are tied down with the mission responsibilities unable to attend long term courses. Therefore, Jesuits instead could be encouraged to attend short term courses, like Roots and Wings.
b) Strengthening the zonal inter-provincial collaboration: Suggestions made for bringing the local superiors, vocation promoters and like together for such kind of meeting for exchange of experiences, thoughts and for Jesuit bonding in zonal level. It is suggested that Darjeeling provincial could ask his vocation promoter, Fr. Kennedy to coordinate the zonal level vocation promoters gathering. The local superiors meet is tentatively decided to be organized in 16 -20, March 2020. Places will be finalized soon. For the greater collaboration, the Regents could be sent to other provinces in exchange. Nepal and Darjeeling have already initiated the interchange of men. There is also an idea boiling on the common appointment of Jesuits of both sides.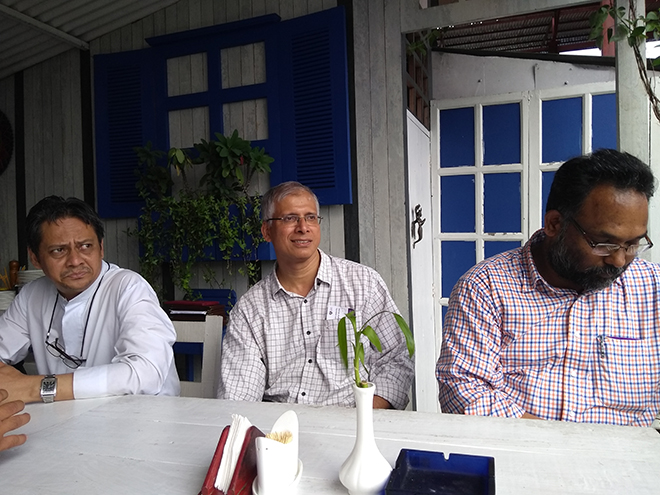 d) Redrawing of zonal territories: It was recommended that provincials first prepare their men well for mission work before a discussion on redrawing of the zonal territories.
c) Suggesting a few names for ADF and JESA Secretaries: A few names were suggested from Patna, Kohima and Karnataka for the ADF. Similarly, a name was proposed from Kolkata for JESA secretary.
After the lunch the provincials went to Kathmadu airport to board the plane to Pokhara, a scenic city. Fr. Paul K.C., the parish priest of Pokhara came to pick up the provincials from the airport. They were lodged in Anna Paul guest house owned by St. Paul Sisters. The local Jesuit community took them to lake area and Davis fall for sightseeing. In the evening the Nepal Region sponsored a Lake view dinner for all the Provincials in Hotel Bhanjyang. It was wonderful to relax and talk about cricket scores while having some sips over the table.
The next morning there was mass said by Fr. Wilfred Lobo. He stressed in is homily that as provincials, they need to be humble and forgiving despite of receiving some continuous accusations from Jesuits under their care. After breakfast, they visited Religious houses of Pokhara. They departed for Kathmandu in the late afternoon. Some provincials missed their flights to Indian border the following day because all the domestic flights were cancelled due to bad weather. They, however took night buses to reach their destinations.