Baniyatar Mobile clinic was started on 15th May 2009, in collaboration with Nepal Jesuit Society, in order to extend our service to the most needy throughMobile health service. We work in 3 Dist. Kathmandu, Nuwakot and Dhading, and in 7 V.D.Cs they are as follows.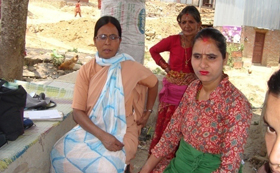 | | | |
| --- | --- | --- |
| Kathmandu: | V.D.C | Doban |
| Mudku | Okarpawa | Madanpur |
| Baniyatar | Kakani | Dungana Ghav |
| Goldunga | Madanpur | Sewdeli |
Nuwakot Dist
Kakani
Okarpawa

Belkot
Dhading
Chetradeveali

Dhading Dist:
Chetradevrali
Tippling

Main objectives:
To treat minor ailments and distribution of medicine
Awareness programme especially for the women and children
Health camps and school health programme especially to the Government school children
During this year we have treated 25285 patients in the regular clinics. Health camps as well as school health programme conducted in different Government school. This year we conducted 355 clinics on regular basis in 11 centers. The number of patients varies from clinic to clinic. In winter season the number of patients reduces because this season is healthy season. During winter people mainly suffer from asthma, Wheezing, bronchitis, pneumonia, arthritis, cough and cold. In summer season due to water pollution, flies, mosquitoes breeding heat and lack of personal hygiene, we find more patients suffering from skin diseases, diarrhea,dysentery, typhoid, heat boils, scabies and wounds so on. Besides regular clinics we also conducted 13 health camps, and school Health programmes. Health camps are conducted only in remotest villages especially where there are no medical facilities are available
Baniyatar mobile clinic consist of 5 members, a sister in charge, 3 nurses and a driver.