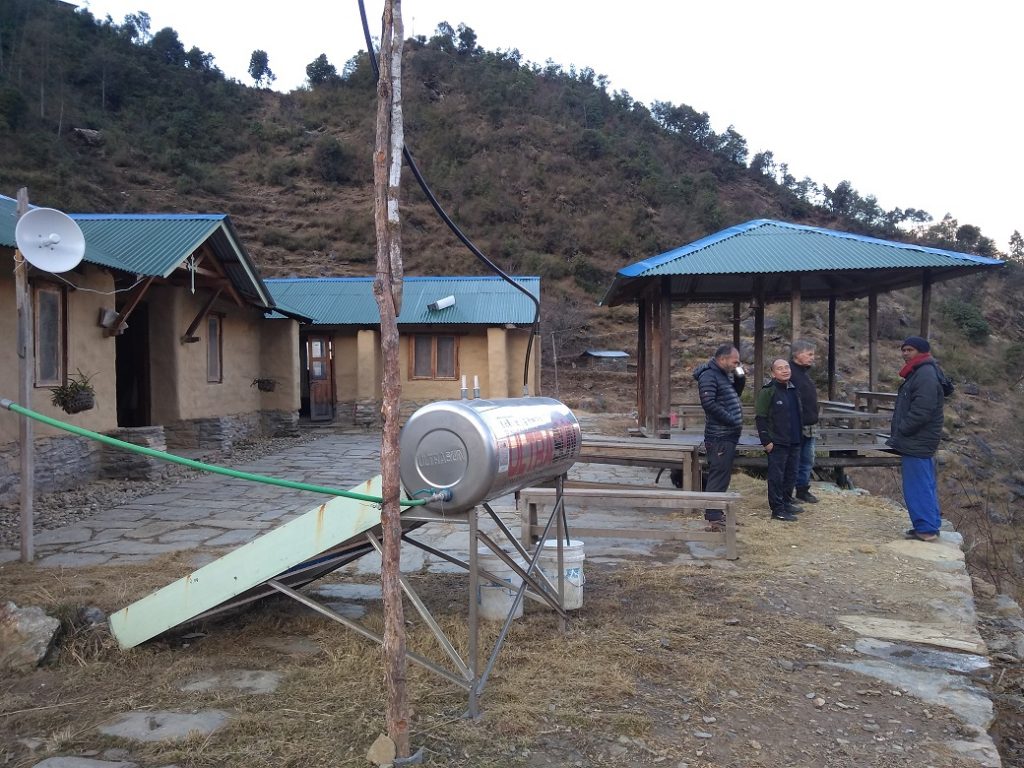 Fr. Amrit had just arrived from a visit from Tikuwa, Far-West Nepal; and he dropped a bombshell, "Let us go to Tipling this afternoon." Well, I was only half ready to go to meet our brothers in Tipling. "Isn't it unwarranted to get ready NOW? We needed to go to Tipling for the annual visitation. Anyway, I packed my bag pack immediately and was ready to move.  We boarded a Micro bus at 3 in the afternoon and headed to Dadhing Besi.  We were there by sun set. We found a lodge for a night sleep, had our sumptuous meal and went to bed. We prepared our bodies for a long walk next day. About 4:30 in the morning, the whistle of the modern day gadget next to my head chimed and my eyelids parted. The chilled silver lining from the nearby wash basin refreshed our faces that were shadowed by the night.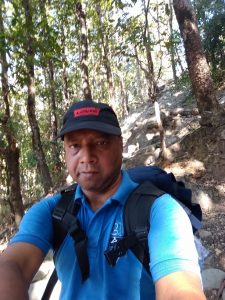 At about 5:30 a.m., when we tried to go out, we found we were locked in.  After a few attempts of waking up the innkeeper, we finally were out to get into a waiting jeep. We sat on the middle seat and started the winding, dusty and treacherous road. We had a plan set to reach Dhundre, the last taxi stand by 10:00 a.m. but reached 15 minutes late. A small eatery had cooked rice and vegetables already and was waiting for chicken to be arrived. We were in hurry, so we waived chicken and had "Dal Bhat Sabji". Now, with renewed vigour, we started our trek to Khatyat, Ruby Valley. After an hour, we took two different ways without our knowledge. Fr. Amrit took the familiar trail whereas I opted for the wide leveled road all along presuming that we both had taken the same path. However, the nice road ended after five hours of walk and then the rocky and steep climbing ushered me up. I had to accept now what a doctor had found some five years ago – that I had irregular breathing. With slow but steady steps, I continued to move up in spite of stress on my breathing. After sweating out for eight hours; and around 7 O'clock at night, Frs. Ayar and Mike welcomed us with hot coffee in their sacked-walled but fairly warmed room. After a hot meal, we went to our respective beds to rest.
My eyes opened after nine hours of deep sleep. But the body refused to leave bed. It excused of having pain on legs, on back and on shoulders. So, after extra hour of rest, I forced myself to go out to brush my teeth. As I moved out, I was wonder-struck with gigantic snow-capped Ganesh Himal. Wow! Beautiful mountains. All my pains, slumber disappeared. I was transfixed watching and admiring the mountains and its craftsman. A line of praise ran my lips for the craftsman, the Almighty.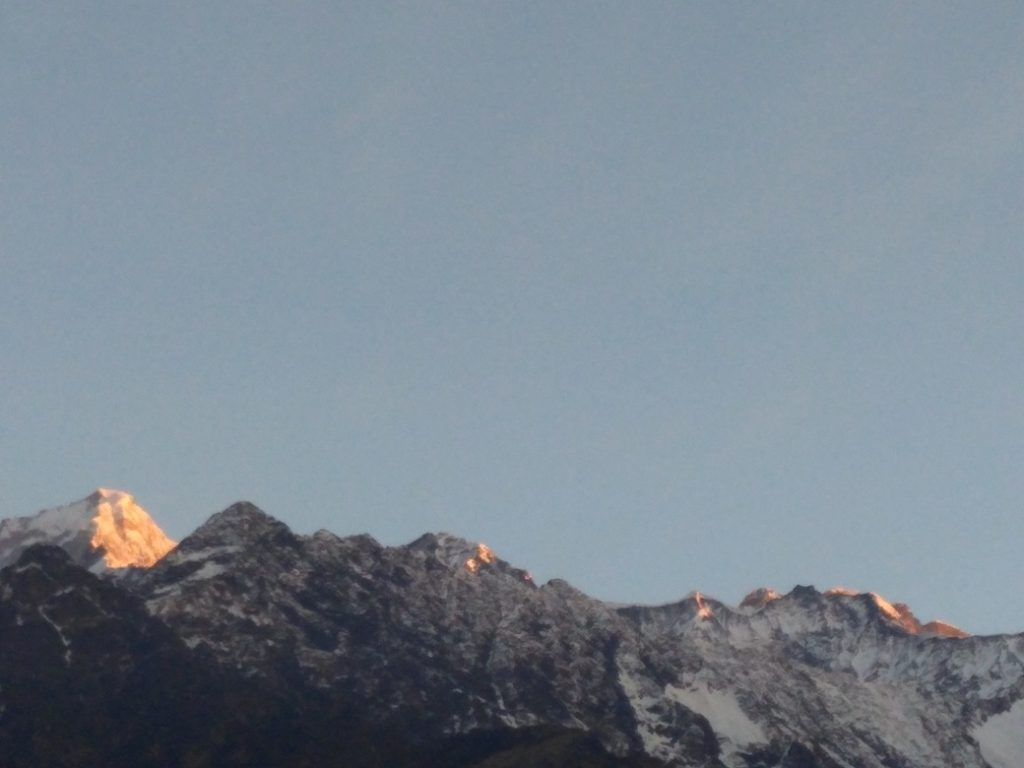 We started the day with a good breakfast and walked up again for half an hour to a Community school called Dongdeng Devi. The school had arranged an interaction session for us with the teachers, the Principal and the Ward Chairman. After a few cordial exchange of opinions, expectations from both sides, Fr. Amrit and I was led to the office of Ward Chairman. He welcomed us with traditional garlanding with Khada. He expressed his profound gratitude to Nepal Jesuit Society and the Nepal Jesuit Social Institute for overwhelming them with lots of supports. He also placed some concerns as how to improve the academic standard for the school under his management. Fr. Amrit expressed that for various reasons, Nepal Jesuit Society's would not be capable of take over the management of the school.  However, it can extend its service immediately to school with ongoing teachers training on Jesuit methods of teaching, and follow ups of such seminars. Thus, he assured the Ward Chairman of our continuous help in bringing progress to academic standard of the school.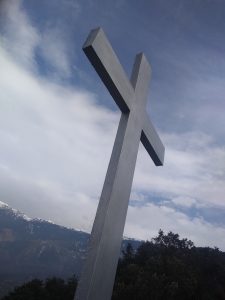 Then, we came down for late lunch.  Soon after this meal, we climbed up to Crus Dada that is overlooking the village and 'protects it from any evil'. From there, we went ahead to see and walk on newly made road by NJSI. Meantime, the JCB operator saw and hurried down to meet us with a flask of hot tea. After a brief conversation with him, we crossed a gorge by a suspension bridge to a little hamlet, Majat also called Maria Gaun.  The parishioners gathered in the village chapel for an interaction session before the Mass would begin. There were voicing of various opinions, concerns, and also willingness to collaborate with Nepal Jesuit Society for their development.  We were able to clarify some of their fears and concerns and assured them that we would help.
After the mass at around 8 p.m., we trailed back to the Jesuit house, warmed ourselves enough at fireplace before having hot dinner with free-range chicken soup and meat. With belly satisfied, we retired to our beds.  Next day, a plan was set to go back to Labdung and see a piece of land. The plan failed. The heaven started pouring whole day.  Since we couldn't go out, we began a spiritual conversations with Fr. Mike, the Mission In charge. It was wonderful and went on for whole day. The rain continued.
We had decided to start our trek back at 4 a.m. on 8 February. And we did. There was no rain in the morning. With grateful heart to God, we started to trail down to Dhundre. There was however, showers now and then, but it stopped for rest of our walk. We reached Dhundre at 11 a.m. and took a shared jeep. After 3 hours of again muddy, sludgy, and frightening ride, we reached the bus stand in Dadhing. Fortunately, there was a Micro bus in queue for Kathmandu.  We booked the ticket, waited for few hours and boarded the vehicle that reached us to Kathmandu by 7 p.m. We were safe home by 8:30 p.m.