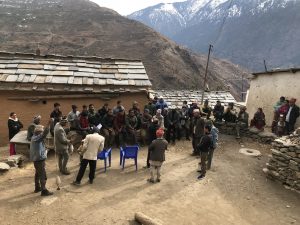 Fr. Amrit Rai, SJ and Fr. Anil K. Beck, SJ left Kathmandu on January 31 to February 2, 2019 for Tikuwa village and Jana Jyoti School(est. 1989). The village and the school come under Sanni Triveni Gaunpalika-4, Kalikot district of Province 6.
Brief Description on Place and People:
The ward number 4, Tikuwa comes under Sanni Triveni rural municipality located in Kalikot District of Karnali Province of Nepal. Khas Chhetries and Dalits form the majority communities in Sanni Triveni rural municipality. Sanni Triveni rural municipality has total population of 12,846 as of 2011 Nepal census and which is divided into total 9 wards. The newly formed rural municipality headquarter is situated at Mehalmudi.
Objective/Purpose of visit:
Possible expansion of NJS mission to the far western reasons.
Possible look out of the place (school) for NJS-Jesuit volunteer teachers, meeting with the target communities and have initial proposals and understanding between them and NJS.
Brief Description of the Event taken Place: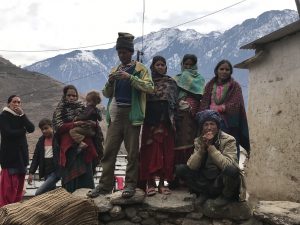 Along with our local contact person from Tikuwa, Fr. Amrit and I left Kathmandu on 31st of January 2019 by taking the night Bus to Surkhet and reached early in the morning there by 7:15am. Without getting refreshed and not wasting much time, we booked the ticket to go to Jite Bazar from Surkhet Bus stand and reached there by the early evening. After crossing the Karnali River through hanging bridge on foot, we had to wait for long time to get the local vehicle to reach our destination. We managed to get a vehicle, which was going half of our way for which we had to pay full ticket price that we would never travel. From there we took another vehicle (kind of reserved since we alone travelled) for about half an hour and began on foot journey in the dark for about an hour to reach Tikuwa village. By the time we reached the village climbing stiff hill through dark and muddy pathway, it was more than 9:30pm.
Once we got up in the morning, it was a refreshing experience to see surrounded by the beautiful mountains and snowcaps view. Around 9am, we had a small meeting with the villagers about the prospects of Jesuit volunteers coming there and teaching in the school. Once we finished the meeting with village community, we went to visit the school. The school gave us a grand welcome. In the assembly session itself, we exchanged of our plans and took their proposals. By 10am, we moved out of the school for lunch and then walked down to Jite Bazar. We reached Jite Bazar around 4pm. There was a vehicle going to Surkhet if it got enough passengers. Our plan was to reach Surkhet by the late evening or in the night on the same day itself. However, uncertainty of the vehicle forced us to lodge ourselves at Jite Bazar without any proper accommodation. The next day, by 7am we began our journey back to Surkhet and then same day we took the night Bus to Kathmandu. At Surkhet, we had a very short visit to SCN Sisters where we got a chance to wash ourselves for the first time on the third day.
Observation and Analysis:
It is one of the least developed areas of Nepal but geographically beautiful place. Though road has reached the place, it is difficult to get vehicles on time and always with uncertainty whether vehicle will move unless it has full passengers. Tikuwa village, where concerned school is located, is quite warm as compared to other villages there in the winter.
According to the locals, around this locality there would be about 5 thousand houses mostly populated with Khas Chhetries as a majority and Brahmins as a minority where Dalits form the second largest community. Almost every ward has its own primary schools and more than 4 schools up to class 10 level and 2 Multiple Campuses in the area.
Jana Jyoti School (est. 1989) at Tikuwa, which is up to class 10 level, has 162 students with 51% being Girls and 49% boys where Khas Chhetri students are 70%, Brahmin and Dalits 15% each. There are 9 teachers in the school among whom only 4 are govt. appointed teachers and among the 9 only one female teacher.
However, there are enough classrooms but not a single classroom has any desks or benches. All the students sit on the cold and somewhat wet floors and even teachers do not have any chairs and tables in the classrooms. The interesting fact is that even the staff room do not possess any chairs or tables except a chair and a table for the principal. The schoolhouse structure looks very old and dirty, which really need plastering and repair. The school ground not big but big enough for the hilly area schools.
Personal Interesting Facts/ incident/ (if any):
Though, Jana Jyoti School was established in 1989 at Tikuwa, till date it is difficult to find anyone who has completed degree level of education or higher from the area. One family confessed that their two sons are studying in Don Bosco School, Lubhu, Lalitpur. They stay in the rented house with the family.
Khas Chhetries form the majority around here but their education and economic conditions too not much different from the Dalits.
If you look at population in the village, female population always has been higher which is reflected in the school attendance too. Yet, it is much lower than 50% women population who are either educated or can read and write in the area. According to the villagers until now only 7 to 10 women who have either passed or reached up to class 12. There has been absence of any women related awareness program or any Mahila Sanstha formed for them or working. The women have no place to gather or hold meetings of any kind. Chaupadi Pratha still practiced in the area.
Tikuwa village can be an ideal place for future expansion by opening a school in the far western region. The village community looks simple, enthusiastic, welcoming, and supportive and at the same time, weather there looks much better especially for the winter season.
Limitations:
Even though, there is a road, it will be tough to travel during the rainy season since roads are unpaved and newly dug or badly damaged right from Surkhet to Tikuwa. From Jite Bazar, other side of it has a road up to Tikuwa but absence of a bridge in Karnali River will always prevent from easy access to the place and transportation of essential supplies.
It was a quick and very short visit and therefore we could not gather enough and reliable data for the purpose.
Recommendation:                                                                 
As thought and planned by the Regional Superior of Nepal Jesuit Society, we must give a try by going there to teach in the school as a volunteer teachers at least for a year so that we can have enough time to explore all possibilities before committing ourselves any further of any kind.