With great delight the Nepal Jesuits received Fr. Arturo Sosa Abascal, 31st Superior General at Tribhuvan International airport on 23 February 2020.  The preparation for Fr. General's visit began long before with setting up of steering committee to chalk out an itinerary for Fr. General.
Fr. General was welcomed with bouquet by Region Superior and Fr. Roy in the VIP lounge on his arrival with two of his Region Assistants. After collecting the luggage which took hours, they moved out to arrival area and immediately the Nepal traffic police took charge of reaching Fr. General to Godavari Ashram navigating safely amidst traffic congestion.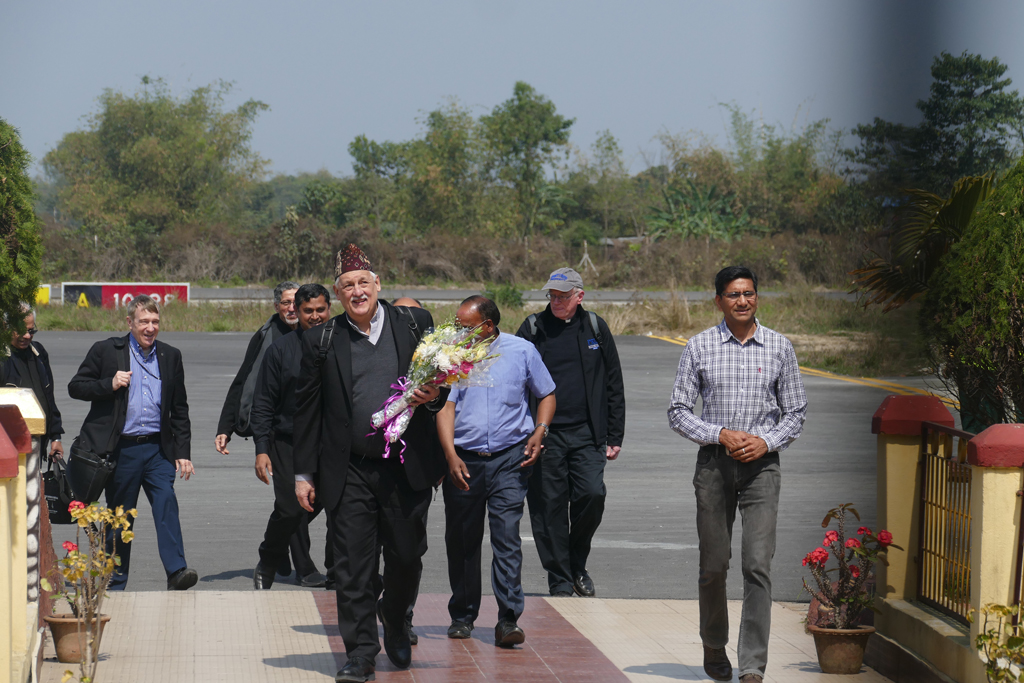 Fr. General arrived at Godavari Ashram around noon just in time for lunch.  After freshening up he was taken to the refectory for the simple lunch. The members of Jesuit Conference of South Asia (JCSA) were welcomed by the Region Superior at 5:30 p.m. with a shirt each as memento made in Nepal. Fr. General did not attend the welcoming session.
Next morning, Fr. General along with JCSA members was taken to Loyola Hall, St. Xavier's School Godavari.  He was welcomed by the students of the school and administration. He was entertained with a dance drama, a tale of Jesuit genesis in Nepal and its current ministries. He then unveiled a plaque inaugurating the Jubilee year celebration of 70 years of its existence. He then moved down to the Ashram to participate in JCSA meeting.
On February 27, 2020 he was scheduled to visit Jesuit communities and their works in the valley.  He began visiting institutes and Jesuit communities with Campion house and St. Xavier's College, Maitighar. The students, staff and administration welcomed him with traditional Nepali style: Panchakanya. He then was presented by students with mesmerizing fusion dances, a blending of various cultures across Nepal. Fr. General in his address emphasized learning with human values. He interacted with the teaching, non-teaching staff and the students. After 20 minutes of programme in the main campus Principal, Fr. Jiju led him to a new academic building for blessing ceremony. Fr. General blessed the building and prayed for all the students, staff who would use it.
St. Xavier's Social Service Centre (SXSSC) along with Nepal Jesuit Social Institute (NJSI) welcomed Fr. General in their premises at 11:15 a.m. They had a very short programme. Fr. General was feasted with angelic welcome dances by the children of the center. He encouraged the children to do more and better to be a wholesome human being with abundant potentialities. Fr. Arul Superior, NJSI garlanded Fr. General with Pashmina shawl and also garbed him with NJSI winter jacket. Fr. General released NJSI report on its achievements from 2015 to 2020. The children were super excited chatting with Fr. General at the time of high tea.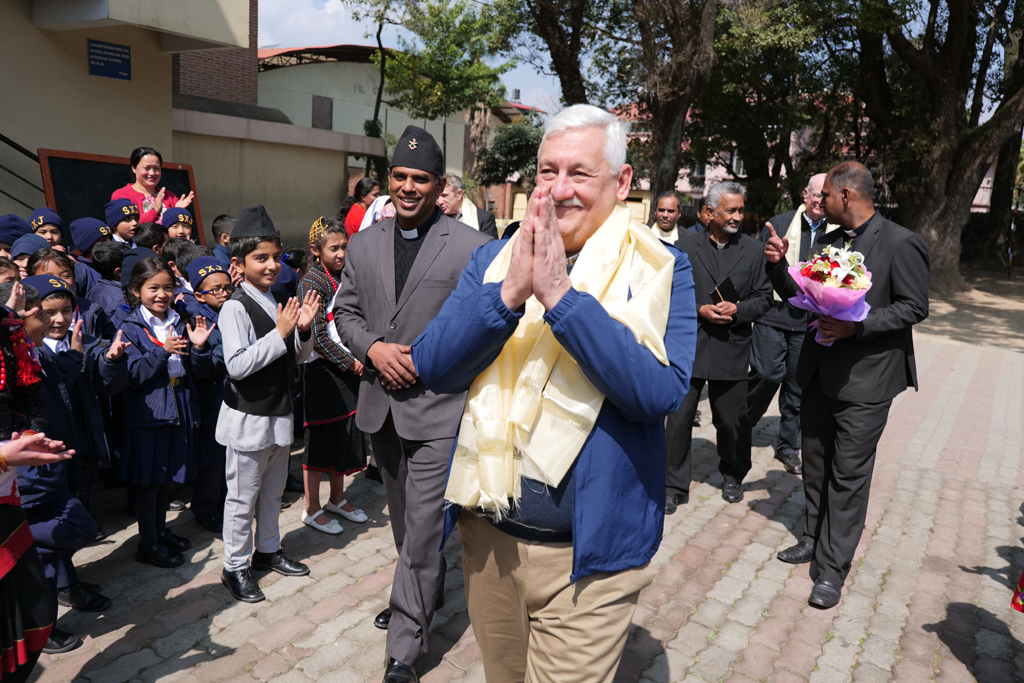 The tiny school children to adolescents of class 12 of St. Xavier's school cheered him in and clapped hands in chorus as the Principal, Fr. George and Superior, Fr. Mathew escorted him to the Donnelly Hall. He seemed cherishing the dance performed by class 12 girls in his honor.  In his address to students and staff, he drew the attention on usages of social media. He exhorted them to use it for empowerment and not for destruction of self or the other.
He addressed the alumni in the afternoon where he urged them with Xavierian value to get involved in politics if they are serious about good governance. He illustrated it further with a sharing of personal example of his dad who gave up his lucrative job and joined politics and was able to bring down corruption in the government as an Education Minister.
The evening was for the Valley Jesuits – he addressed and listened to the Jesuits for an hour. He stressed attracting young men to join the Society by our simple life style and not by simply proselytizing. He celebrated Eucharist where he received the final vows of two Nepal Jesuits: Frs. Roy Sebastian and Juel Kispotta.
He made a courtesy visit to Rt. Rev. Bp. Paul at Bishop house, St. John Paul II Smriti Bas in Dhapakhel, Lalitpur on February 28th morning. The Region Superior with Frs. Vernon and MK George accompanied him to the Bishop house and to Jhapa Mission. They left for the Domestic airport after he finished his meeting with the Bishop.
He was received by the Jhapa Jesuits at Bhadrapur airport at noon and taken to Deonia Jesuit community. After the lunch and rest, he addressed the students and staff of St. Xavier's School, Deonia. He then was taken to Moran Memorial school and Faber House Jesuit community, Maheshpur. He was warmly welcomed by the students and staff of Moran Memorial school. In the evening he met the Jhapa Jesuits and had an interactive session followed by dinner in his honor. The Next day, he concelebrated Eucharist in Nepali for the entire parishioners of Jhapa Jesuit mission. About 800 hundred parishioners attended the mass. Fr. General thanked them for preserving their faith in the long absence of priests until the Jesuits arrived. He had simple meal with the parishioners while also interacting with them.  He was deeply impressed by their living faith even in the impoverished situation. He expressed his gratitude to collaborators, especially the different women congregations in supporting Jesuits bringing in changes for better in the lives of faithful.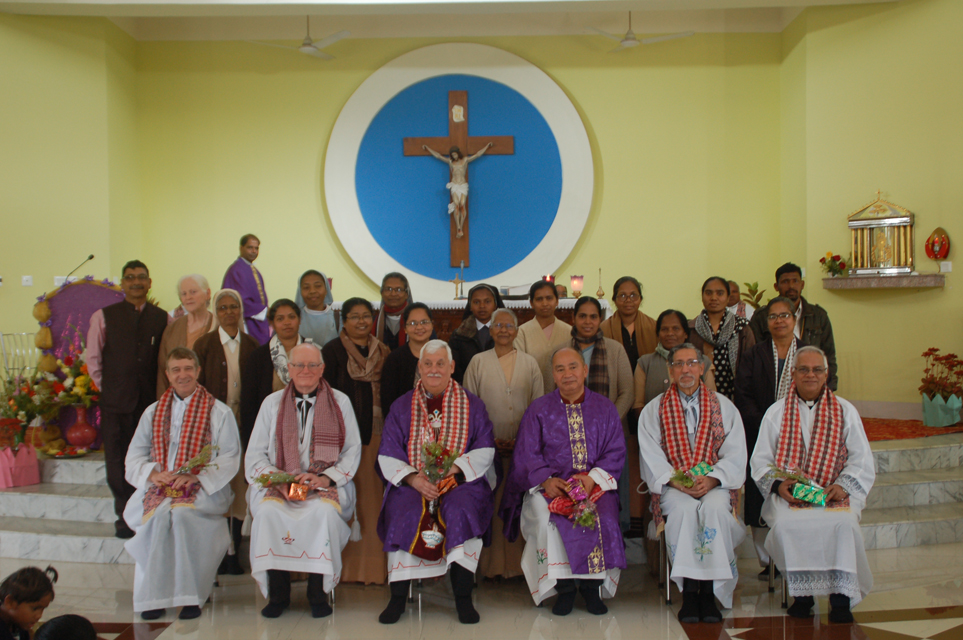 Fr. General left Nepal on March 1st with fond memories of Nepal Jesuits and their works.  In turn he too left doting impression of himself on Nepal Jesuits. They will always cherish his rare visit to Nepal, especially when they look at the group photos and the selfies with Fr. Arturo Sosa, the 31st General of the Society of Jesus.